Hello Everyone!  Thanksgiving is approaching and we would like to offer some healthier choices recipes for some Thanksgiving favorites.
Gluten-Free YUMMY Pumpkin Pie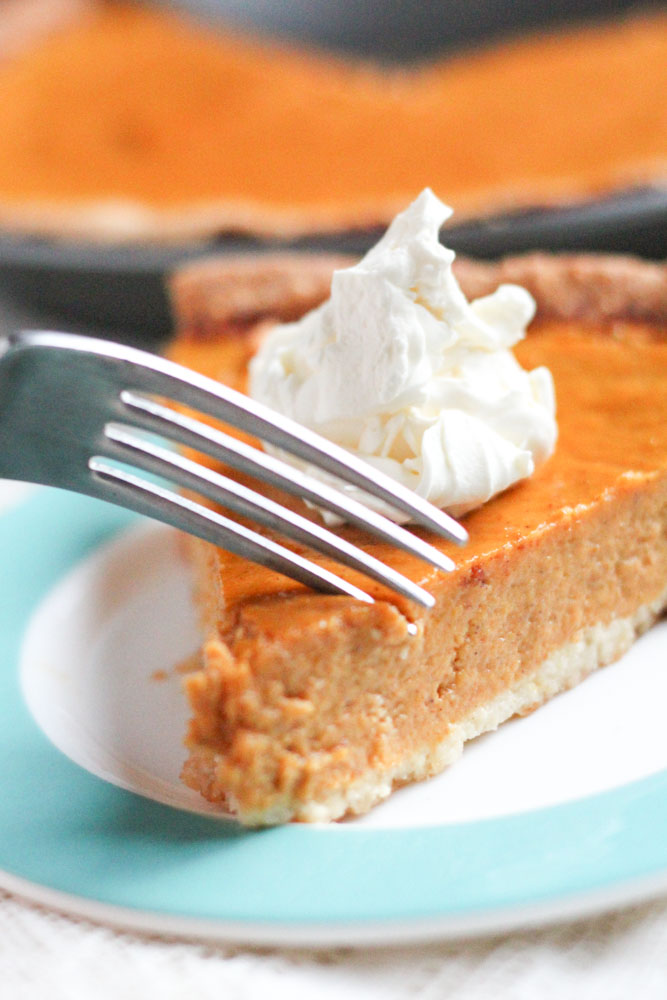 Pumpkin Filling
1 can (15oz) pure pumpkin
1 teaspoon pumpkin pie spice
1/3 cup organic sugar
1/2 teaspoon sea salt
2 eggs, beaten
1 cup whole milk
Gluten-Free Pie Crust
2 cups blanched almond flour
1 egg
3 Tablespoons grass-fed butter, melted
1/4 teaspoon sea salt
Instructions
Preheat oven to 425° F
Place blanched almond flour, and salt into food processor.
Add melted butter, egg and pulse until mixture forms a ball.
Press dough into a 9-inch pie pan
In a large mixing bowl add pumpkin, pumpkin pie spice, sugar, sea salt and mix together.
In a small bowl add eggs, beat with whisk for 1 minute. Add eggs to pumpkin mixture.
Slowly stir in milk until fully incorporated.
Pour pumpkin mixture into pie crust.
Place pie into oven, place pan under pie to catch drippings.
Bake for 15 minutes, turn oven temperature down to 350° F and continue baking 40-50 minutes or until knife comes out clean.
Delicious Reduced Sugar Cranberry Sauce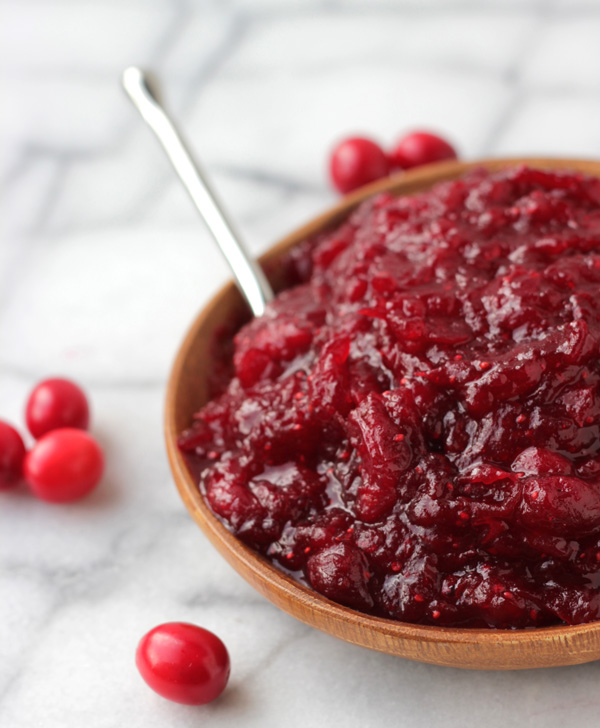 Most homemade cranberry sauce recipes call for a lot of sugar… enough to call cranberry sauce a dessert and not a side dish. For those who haven't tried them, plain cranberries are very tart, so to reduce the sugar and still have an enjoyable sauce  unrefined natural sweeteners (honey) and delicious fruits filled in the gaps.
This recipe still has more natural sugars than we normally eat, but is a much healthier option to the ones that actually contain refined sugar and is a delicious treat for Thanksgiving dinner.
Prep time Cook time Total time Serves: 8
Ingredients
2 bags of fresh cranberries (they are usually 12 ounce bags, so about 24 ounces)
¾ cup pineapple juice or orange juice (I recommend pineapple!)
½ cup of applesauce (no sugar added)
½ cup of water
juice and zest of one orange
3-4 Tablespoons of honey or to taste (optional)
Instructions
Put cranberries, pineapple juice, applesauce and water in a sauce pan and and bring to a boil.
Keep on medium heat, stirring constantly until the cranberries start to explode (about 10-15 minutes).
Reduce to a simmer and pour the juice and zest over the cranberry mixture.
Simmer 10-15 minutes and remove from heat.
Cool completely and store in fridge at least 4 hours but preferably overnight before serving.
NOTE: This is not as sweet as store versions! Taste at the end of cooking. It is naturally sweet from the fruit juice and applesauce but you can add more honey to taste if needed.
Healthier Version Green Bean Casserole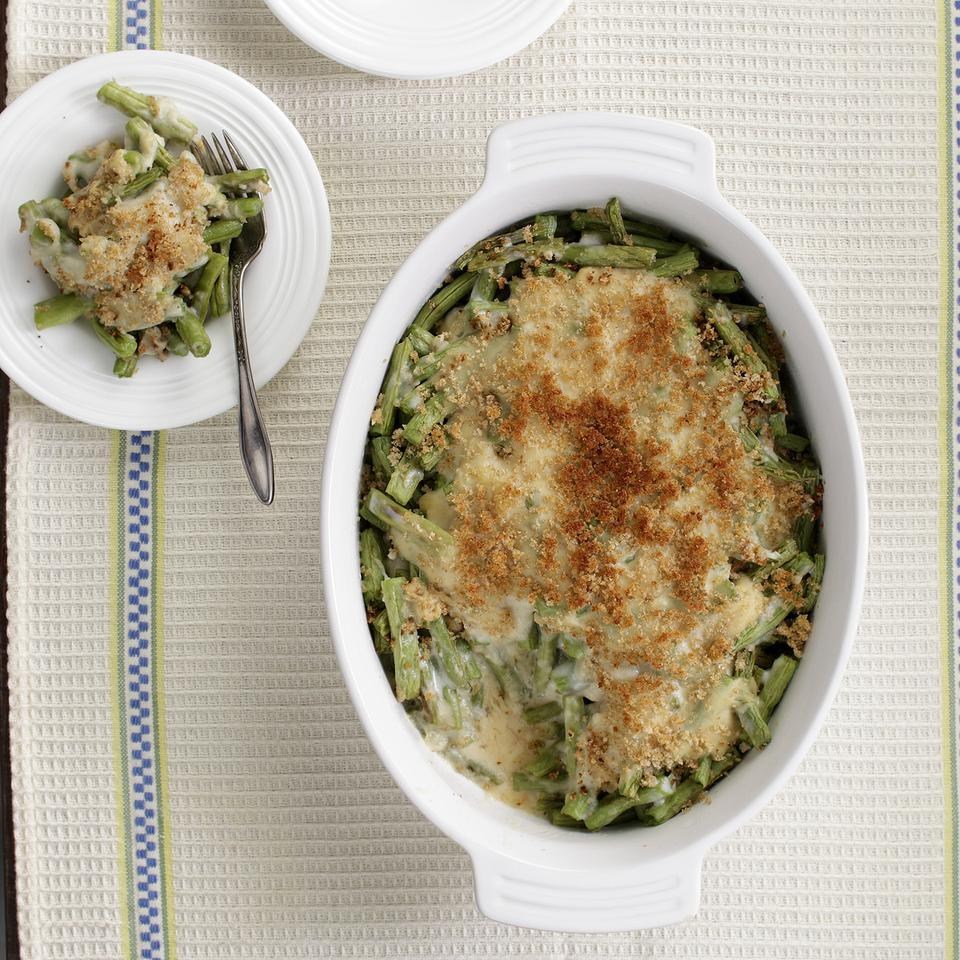 Prep time Cook time Serves 8
Ingredients
2 1/2 pound green beans, trimmed and cut into 1- to 2-inch pieces (about 8 cups)
2-3 tablespoons extra-virgin olive oil
1 medium onion, thinly sliced
3 tablespoons all-purpose gluten-free flour
3/4 teaspoon salt
1/4 teaspoon white or black pepper
2 1/2 cups low-fat milk
1 1/2 cups fresh gluten-free breadcrumbs
1/2 cup shredded or crumbled cheese
Preparation
Position racks in upper and lower third of oven; preheat to 425°F.
Toss green beans in a large bowl with 1 tablespoon oil until well coated. Divide between 2 baking sheets and spread in an even layer. Roast, stirring once and rotating the pans top to bottom about halfway through, until tender and beginning to brown, 20 to 25 minutes.
Meanwhile, heat 1 tablespoon oil in a large saucepan over medium heat. Add onion and cook, stirring frequently, until very soft and golden brown, 5 to 8 minutes. Add flour, salt and pepper; cook, stirring, for 1 minute more. Add milk and continue to stir, scraping up any browned bits. Cook, stirring, until the sauce bubbles and thickens enough to coat the back of a spoon, about 4 minutes. Remove from the heat. (See Tips)
When the green beans are done, remove from the oven. Preheat the broiler.
Transfer half the green beans to a 2-quart, broiler-safe baking dish. Spread half the sauce over the green beans. Add the remaining green beans and top with the remaining sauce.
Combine breadcrumbs and the remaining 1 tablespoon oil in a small bowl. Sprinkle the breadcrumb mixture and cheese over the gratin. Place under the broiler and broil, watching closely, until the gratin is bubbling and beginning to brown on top, 1 to 5 minutes, depending on your broiler. Let stand for 10 minutes before serving.
Make Ahead Tip: Roast green beans (Step 2) up to 30 minutes ahead. Prepare the sauce (Step 3), cover and refrigerate for up to 1 day; gently reheat until steaming before combining with the green beans.
To add extra flavor to the cream sauce, at the end of Step 3 stir in 1 tablespoon chopped fresh herbs, such as thyme, sage or parsley. Or make it cheesy by stirring in 1/2 cup shredded or crumbled cheese, such as Gruyère, Swiss, Cheddar or blue cheese.